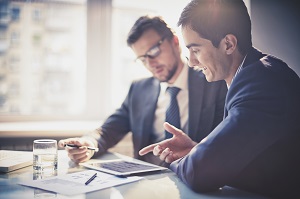 Contact Centres have a tough job on their hands and a lot of Contact Centre leaders often find themselves with a number of challenges on their plate.
So what are these challenges?
I think the first one worth highlighting is something that all senior Customer Experience and Contact Centre leaders will be familiar with; the business hierarchy within organisations.
In a lot of cases, the Contact Centre is too far away from the powerbase and the heartbeat of the organisation. So what organisations need to ask themselves is where does our Contact Centre sit? Do we put Customer Service at the heart of our business? There's a strong link between the Contact Centres that do and Customer Satisfaction.
Another key challenge faced by Contact Centre leaders, is that Contact Centres have been traditionally viewed as cost centres, with a large proportion of people claiming to see no real value in them. So, the struggle here is, how do you put a value against the role of the Contact Centre? A big part of this challenge is trying to do more for less. Which is where the focus on Average Call Handling Time and some of the harder metrics used to measure the performance and 'value' of the Contact Centre comes in.
The third key challenge is around the complexity of the Customer Experience. If you stand back and think about who is contacting you, maybe 90% of the time it's not actually anything to do with the Contact Centre. It's to do with an issue across the whole end-to-end journey - website issues, product issues, supply chain issues or simply customers not understanding a bill that you've sent them. What brands need to do here is make sure that the entire customer journey is joined up, so customers will no longer need to call into the Contact Centre for these minor issues.
This leads nicely into our fourth challenge; data. The challenge that a lot of senior leaders are facing is how to use data correctly, efficiently and turn it into insight and action.
Traditionally, Contact Centres are inundated with data - probably more than they know what to do with In most cases, Net Promoter Score, Customer Effort and Customer Satisfaction are all seen as important indicators of how a Contact Centre is performing. But these have just been added on top of old measures such as Call Handling Time, Resolution Rate and Conversion Rate, so the amount of data has almost doubled, and Contact Centres can't make any sense of it all.
The important thing for Contact Centre leaders to do is to tackle each of these challenges separately, and give them each the same amount of time in order to make significant improvements in each area.
Want a few more ideas on how to make the most out of your Contact Centre? Take a look at our on-demand Webinar: Customer Experience in the Contact Centre: