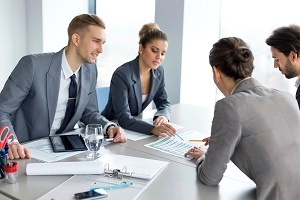 Some organisations are still at the starting line. They know that customer experience is important, but they don't actually know where to begin. Others are further along the path and are now looking to make those marginal changes that turn good customer experiences into great customer experiences.
So we've put together three steps you can follow to start putting your customer first.
Step One: Hire someone whose sole responsibility is to drive Customer Experience improvements.
Often, the first step to improving the customer experience is getting support from the board. Hiring somebody that is ultimately responsible for driving the customer experience has to be seen as a positive by management. After all, if you don't have any board level buy-in, then it's going to be very hard to get the resource you need to make any kind of customer experience programme work.
Step Two: Really listen to what your customers are saying to you.
You need to listen to what your customers are already saying to you, and we mean really listen.
Many organisations rationalise customer information through reporting all the way through to the board. Customers are often asked to fill in surveys, answer questionnaires and score their experience, giving you factual, structured, and rational information. But the problem is these methods focus on the information that is important to the brand, not necessarily the issues that are affecting their customers. Crucially, none of these methods are able to capture the emotion behind their customers' answers. Rather than relying on your interpretation of your customers' feedback, uncover what they're actually feeling by asking your customers what they think, in their own words.
Step Three: Start working with the areas of the business that have the most interaction with your customers.
Start to work with those areas of the business that have the most interaction with your customers; the people in the field or in the Contact Centre. Engage them by gathering feedback from customers. What you'll probably find is that far from being inundated with complaints, your customers will have quite a lot of positive things to say. Then find ways of putting this positive sentiment to work, before you even begin to undertake any analysis.
By following these simple steps, struggling to put your customer first will be a thing of the past and your Customer Experience will improve dramatically.
Find out how to think differently about your Customer Engagement in our Webinar: Customer Engagement for Rebels: