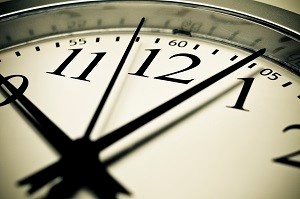 Here at Rant & Rave, we believe in doing everything in real-time. Real-time proactive communication, real-time feedback, real-time everything. Simply because it can help you to improve the experience you provide your customers, in real-time.
So they know you care about their experience.
The only problem is, what if they don't tell you there and then? What if they wait a week before telling you what they thought? You can't force customers to tell you what they think, but there are a few things you can do to encourage them to let you know, ASAP.
Get it to them quicker

It's not rocket science but it is vital - the quicker you get feedback requests to customers, the more likely they are to fill them in, and (even better) return them quickly. Also, the longer you leave it to get back to customers, the more the less they'll remember about their experience, which means valuable information is getting lost.
It's not just forgetting things either, the longer you leave it, the less people will care. Emotions reduce in intensity from the moment people feel them. You want to hear from customers at their happiest, their angriest, their most impressed or their most frustrated. Whatever it may be, it's authentic, and it's this type of strong and emotional insight that you need to improve your service.
Taking this approach will also make you look better, and like you really care what your customers think. The company that you interact with, and hear from straightaway, is the company that seems to really know what they're doing, and to really value your insight. A process happening in real-time is much more likely to get feedback in real-time.
Make it work on the go

We can never predict the behaviour of all customers, but when we spend as much time as we do on our mobile phones, we can certainly guess that one of the first things our customers are likely to do after ending any kind of process with us, is look at their phones.
Take further advantage of this and ensure that any feedback requests you send are easily compatible and accessible from phones and tablet devices.
But also be realistic. Your customers are busy, and providing you with feedback won't be the most exciting part of their day day, make the most of those times people have a spare moment. Commuting is a great example of these two things coming together: people have some spare time and will, more than likely, be using their mobiles.
Don't take up hours of their time

Be transparent – no-one wants to start a survey if they think it could keep them there for hours. Keep your feedback requests simple and show them exactly how far through they are. If done right, it will actually entertain rather than bore your customers, much more of a reason to get it done now rather than putting it off until later (or never).
If you're looking for other ways to help enhance your customer experience, you don't want to miss out on our CX Day event: Build a Great Customer Experience! Get your name on the list now to avoid missing out!