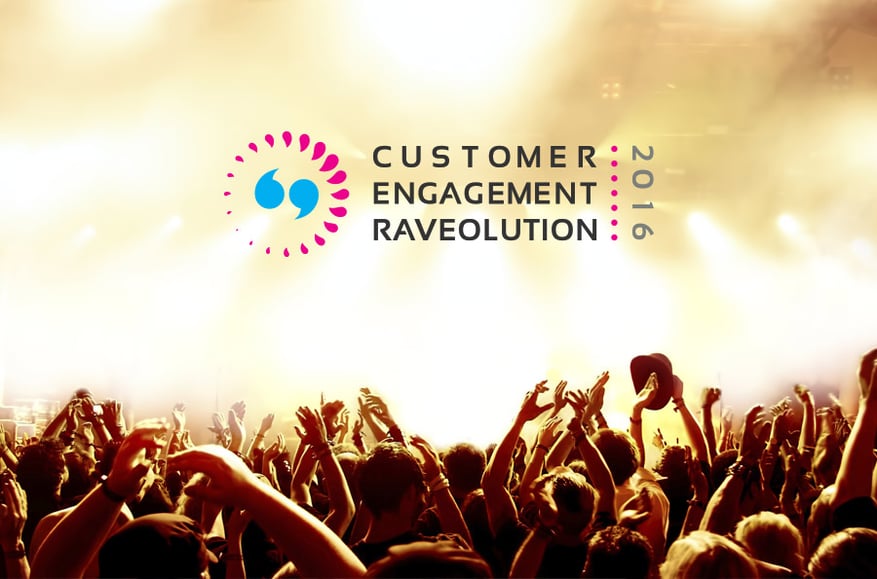 This year Customer Engagement Raveolution is returning with a bang! Take a breath and steady yourself because there's a good chance you might fall off your chair with excitement (we're so excited that Rant & Rave are currently doing figure eights around the office).
So what's it all about? This year Raveolution 2016 will bring together 300 CX leaders for a day of insightful presentations, thought leadership and networking, taking place on the 3rd of November at Hawker House, Canada Water.

Sounds tempting? Well, we're literally scratching the surface...
The Headliners
What is a great event without memorable headliners? This year we went all the way to pull together some of the best customer experience rockstars in the industry today.

Marc Wood - Gold Winning Paralympian

Marc's talk is all about 'Going for Gold'. As a truly inspirational figure, he focuses on triumph over adversity and understanding what success looks like. Marc identifies that a huge part of being a leader comes back to establishing great communication, we can't wait to hear Marc's personal story and learn from his wealth of experience.

Leonie Foster - Marketing Director, Dunelm

Leonie is a customer focused business leader in proposition development, customer insight and communication. We're looking forward to hearing Leonie discuss how Dunelm have transformed into a customer-centric business and the importance of great culture.

David Leather - Chief Operating Officer, Plusnet

Coming from a brand that puts the customer at the heart of the business, we're excited to hear David cover the importance of how feedback can help with a culture first approach. He also will discuss the synergy between Plusnet and Rant & Rave, emphasising the importance of having partners that align with your employee engagement strategy.

Professor Moira Clark - Director of Henley Centre for Customer Management

Moira's presentation will present a contrary view on employee engagement based on recent research. She explores why the most engaged employees don't always deliver the best experience for the customer, often because they're focused on internal KPIs rather than customer needs.

John Patterson - Director of CX, Sage

John will cover the impact of positive behaviour, tuning into recommendations and remarkable recovery. Voice of the Customer programmes are close to John's heart, having delivered several internal and external solutions which have led to customer experience awards. On the day this will provide attendees with another angle on CX, by focusing on B2B and Sage's experience as the only software company in the FTSE 100.

Stephen Robertson - CEO, The Big Issue Foundation

Stephen will discuss how The Big Issue influences at all levels, from the street, to customers, funders, businesses and government. Exactly what their 'customer experience' strategy looks like and whether you are a newsagent without a shop or a charity attempting to enlighten and engage, The Big Issue are firmly focused on helping transform lives.
The Supporting Acts...
With these customer experience rockstars on the bill you can understand why we're so excited, but if you're still umming and ahhing about whether to come along just take a look at our supporting acts on the day.

The 'Tech Off'
We love brands that challenge the status quo, so as you might expect we decided to invite some very special guests to shake things up at Raveolution this year. Stepping onto the stage (or into the ring depending on how you see it) is The Tech Off® from Tech Dept. So what exactly is 'The Tech Off? well it's been dubbed as 'the love-child of TED talks and WWE' and they pull together and challenge the UK's best tech talent to fight a battle of ideas. Each speaker will give a 5 minute talk whilst the baying crowd (you guys) decide the final champ who'll take away the winner's belt. Trust us, this is going to be one memorable experience.

Welcoming you to the 'The Ravers Stage'

You said, we did. New to Raveolution this year (and based on your feedback) we decided to host a series of interactive product sessions where you can get your hands dirty and find out the latest scoop on Rant & Rave for Salesforce, Rant & Rave Platform and Frontline. This will be the perfect opportunity to quiz our product and technical consultants so prepare any of those challenging questions you've always wanted to ask and as a spring board for new ideas on how you can improve your VoC programme.

Share experiences, themed street food and peer-to-peer networking

It's not just about the content and the agenda (although this is why we're so excited), it's also a great opportunity to network with peers; understand their experiences and learn from each other. Combine this with our themed street vendors serving you festival inspired food and cocktails throughout, we're confident that you'll be in for a treat.

To get your name on the guest list please sign up below, please note that Raveolution is an exclusive event and the box office is kept open for c-suite, director, head of, or senior management roles. Unfortunately we cannot take bookings from external agencies, consultants or your Aunt Mavis who fancies the trip in to London, but as we run events throughout the year, please just get in touch so we can find the one that's right for you.