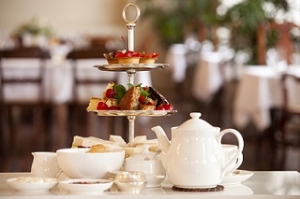 John Lewis have recently announced that they will be stopping their ever-so-British offer of 'free tea and cake' for those on their loyalty scheme. The news has sent shockwaves around the world of freebie-lovers, creating what has been described as "many disappointed loyal John Lewis customers", but is this a fair reaction?
John Lewis is known to be the home of great customer service, promoting the fact that they have "never knowingly undersold", and having a dedicated consumer base because of it. This development in their scheme urges us to further consider the question of what customer loyalty really is. Is it enough to declare yourself as a loyal customer, and prove it by signing up to a loyalty scheme? Okay, so you agree to the company being able to track your spending habits, but there's no associated sign up fee, no minimum visit frequency or in-store spend, you may have no real allegiance to the brand at all. With the current John Lewis scheme, you could sign up tomorrow and enter the store just for your free tea and cake, not spending a penny for the foreseeable future. True customer loyalty? I don't think so.
Of course the scheme works on the pretence that John Lewis goodies are just too enticing to resist, and the free tea and cake will turn into purchases of the many exciting items you'll pass on the way to the cafe. But does this work in real life?
Customer loyalty is more than just claiming that you are 'loyal' and receiving the benefits of this, I even think it's more than people coming in week after week. True customer loyalty is an emotional connection. Is the regular customer that buys only one item a week more loyal than the customer that doesn't shop regularly but would never buy a Christmas present anywhere else? Not necessarily, because that shopper comes back every year with a hefty Christmas shopping list for a reason...they trust the quality, they enjoy the service, and they like the brand. That is true customer loyalty – the emotions that make you want to buy from a brand, without an incentive in sight.
John Lewis have claimed their reward scheme changes are "in order to make sure the standards of service remain high", especially during the busy Christmas period in their cafes and restaurants. So should we really be mourning the loss of our freebies?
Good service should create loyal customers, and if their loyalty is entirely based on some free cakes then you really should be questioning their motives. But I wonder how much of an impact the tea brigade will have on tarnishing the overall customer experience? The benefits of the scheme will still be available for those that spend certain amounts per month, so regulars can still stack up on their scones, but unfortunately our festive big spender is going to have to sacrifice her Victoria Sponge at this store.
To gain true loyalty from your customers, you need to make sure your Customer Experience is as good as possible. Find out how to do that by listening to the Voice of your Customers in our Infographic:
Source:
http://www.dailymail.co.uk/news/article-2730358/So-loyalty-John-Lewis-axes-free-coffee-cake-members.html