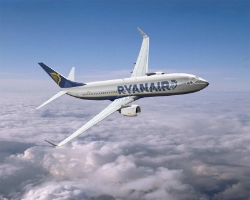 Ok so I'm going to shock people now… My favourite digital experience of 2014 is… Ryanair! I, like a lot of people, was very sceptical when Mr O'Leary came out and said to the world he would: "significantly improve your customer experience" - see video below.
But I think he may have pulled it off. Allow me to qualify. First of all, their new website is great! To be honest it couldn't have been any worse but their new website is one of the best airline websites I have come across. It is easy to use, a great experience and even looks good (am I really saying this?)
Now comes the best part… I had to make a change to my flight, which initially filled me with dread. After finding my email confirmation, there were clear sign-posts to where I should go to make a change, and after 1 click I was back on their site. Within seconds of arriving on their site I was greeted by an online chat representative who helped me change my booking. When part of my flight couldn't be changed online, my details were collected and I was promised a call-back within 30 minutes. I remember saying to myself at this point "yeah right a call in 30 minutes from Ryanair."
20 minutes later, I received a call back (nearly fainted) and was put straight through to a very helpful assistant who quickly changed my booking for me – effortless! I then received an up-to-date email confirmation and was left very happy indeed. This is a great example of how digital and customer service can come together to deliver a seamless and delightful experience. I'm no Ryanair advocate, far from it, and in my past articles I've been uber-critical of their experience. That said I've also gone on record to say that they are one of the only companies who get customer experience right – after all, if your expectations are so low, then any experience is a good one. Now that they have set the bar higher, it will be interesting to see if they can deliver on these raised expectations, if they can, my hat goes off to them. The real test will come when I check-in online and actually fly with them but for now I'm more than happy. Time will tell if this is an isolated incident or Ryanair have indeed taken customer experience seriously. Here's hoping it's the latter.
Take a look at our infographic to find out how you can enhance your Customer Experience at Moments of Truth:


This blog has been featured on the Business2Community Website!