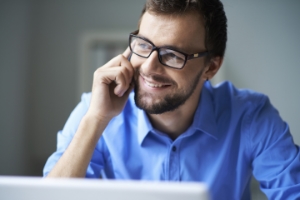 I have just opened a new bank account. The first one in over 25 years.
And all my fears about snail-pace bureaucracy, unintelligible forms, endless call management options (press 1 for a service you don't want, press 2 to get looped back to where you started, press 3 to lose the will to live etc) were totally unfounded.
The process was quick, simple and painless:
The call was picked up in under 15 seconds
The agent was friendly, helpful, knowledgeable and human
They sorted out what I needed in one phone call
They have sent me everything that I needed quickly (cheque book, card, online banking widget, PIN, payment book, payment envelopes etc) and to the right place
The online banking service was live within moments of the activation call
And this isn't a straightforward personal account. This is a charity business account, with multiple trustees and signatures, several different addresses and lots of complexity in verification.
I almost enjoyed the process (almost) and I'm seriously considering moving my personal account to them.
So, on a scale of 0 to 10 (where 10 is very) how likely am I to recommend this company to my friends or colleagues?
10!
How strange then, that the bank in question has absolutely no idea how I feel about them. They haven't got a clue about the emotional impact that their service and process has had or that they have just recruited a Raver – an active advocate who will tell other people about their great service. The best I managed was a "thank you" at the end of the call to the agent – I'm too English to be effusive directly to a real person over the phone!
They don't know – because they simply didn't ask.
On top of that, after looking for over 20 minutes across their online banking site, Twitter and Facebook, I couldn't find a single channel where I could give them my feedback straight away. No email address, survey form, text short-dial or Twitter handle. I could post a letter... but it's the 21st century!
And this is a problem, because now I'm feeling a little uneasy about my NPS® of 10. The bank has worked hard to make it a great experience... but they don't actually seem to give a damn about my opinion. So if there is a problem in the future, or I am unhappy about an experience, then presumably they don't care about that either.
No wonder 96% of unhappy customers don't tell companies about a poor experience and 43% of British adults say that they don't give feedback because they believe that no-one is listening.
Hmm... maybe I won't be such a Raver after all. Sure, I'll bank with them, and I may even buy other products, but I'm not going to recommend them to my friends and colleagues, or name them in this blog. That's dropped my NPS® to an average 7 (neutral) and my expected spend is down by about two-thirds.
It isn't hard to sort this out – just ask and listen to the Voice of the Customer!
Do you have an example of a bank that DOES actively ask for your feedback, and makes you feel confident that they're listening? I'd love to hear your examples.
Find out how you can get your Voice of the Customer strategy right in our Infographic: