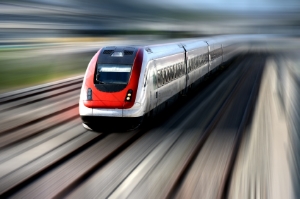 Twenty million people travel each year between London and Scotland on East Coast Trains. It's a challenge to keep those customers happy. Often, the Moments of Truth® in a train traveller's customer journey are difficult to predict.
Furthermore, it does no good asking a customer to complete a survey the day following a poor experience when the problem could have been resolved during their journey.
East Coast Trains implemented a Fast Feedback solution using Customer Engagement technology to address this challenge. Using this solution, East Coast Trains advertised a 5-digit short code on posters in every carriage on every train, inviting customers to text in any comments or complaints they had about the service.
Comments and complaints are sent in the customers' own words, not as numeric responses to questions that ask whether they're satisfied. The Customer Engagement technology includes a Sentiment Engine that analyses comments for their strength and polarity of sentiment (positive or negative). Complaints that require immediate attention are escalated for action whilst the customer is still on the train. Aggregate sentiment is also displayed on a reporting dashboard, highlighting actionable insights and allowing the business to correct any problems.
After collecting over 3,000 comments within a month, East Coast Trains learned of strong negative sentiment among First Class passengers whenever there was a fault in the catering carriage. With several passengers indicating they'd never travel First Class again, this sentiment presented a serious risk to revenue. As a result, the company addressed the problem and communicated the resolution back to its customers, preserving the profit and revenue associated with First Class travel. In other cases, issues such as the cleanliness of toilets in carriages could be addressed at the next station, due to the real-time capabilities of the technology.
According to the Information Technology research firm, Gartner, feedback captured immediately is 40% more accurate than feedback captured 24 hours after the event. Not only is it important to let customers know that they can provide feedback when it's important to them, it's also important to make the experience of delivering feedback fun.
Papa John's pizza is rolling out Customer Engagement technology across the UK. While it is straightforward for the company to predict the key Moments of Truth® for their customers, for example, the online ordering process and the time it takes to deliver the pizza, the most important Moment of Truth® –seeing and tasting the product – arrives without the presence of an employee or connection to the website.
According to research by Gartner, mobile is the best channel for Customer Engagement. Recognising the importance of mobile, Papa John's is making it easy for customers to communicate with them on this channel. The flyers and pizza boxes reference a 5-digit short code to which customers can text feedback. They also advertise a QR code that customers can scan.
The QR code leads to a web widget, specially designed for use on mobile devices. The web widget includes a slider, with which customers can award one to five pizza slices to indicate their satisfaction, together with a text box that encourages customers to share their comments.
The response rate is 17%, compared to an industry average of 10%. Customers are offering unprompted suggestions that have already made an impact on the business, indicating a need to add staff during peak periods to satisfy customer demand.
Find out more about our Fast Feedback solution:
Sources:
Gartner, (2006). Implement Customer Satisfaction Management Processes to Improve Revenue.
Nick Jones, (2012) 'The Mobile Scenario: Understanding Mobile trends through 2017', Gartner Symposium/ITxpo, Barcelona, November 5th