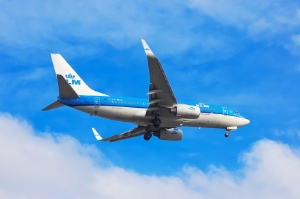 Just in case you didn't have enough worry in your life already, now you get to worry about survey fatigue. Are you over-surveying your customers? Are they getting fed up of all the questions? Or, horror of horrors, is your Voice of the Customer survey actually making your customer experience worse?
Actually, it isn't new. Academics have been tracking a decline in survey responses for over 30 years, and writing* about survey fatigue since 2001, with suggestions on how to tackle it popping up from about 2007.
And it certainly exists. Just try taking the KLM Passenger survey after your next flight.
Now – I love KLM, but their survey certainly left me fatigued (as well as promising myself that I'll never fill in another one of their surveys again).
Because KLM, bless them, dragged me through seventy-five questions.
75.
It gets worse...
13% of the questions were asking for information which KLM MUST already know, otherwise they would not have let me get on their plane! And a further 37% of the questions were confusing or misleading, or I think that I just got them wrong.
To cap it off, after 74 questions giving scores, ticking boxes and picking options, I eventually, on question 75, got the opportunity to actually write about something that I wanted to talk about, as they finally asked me: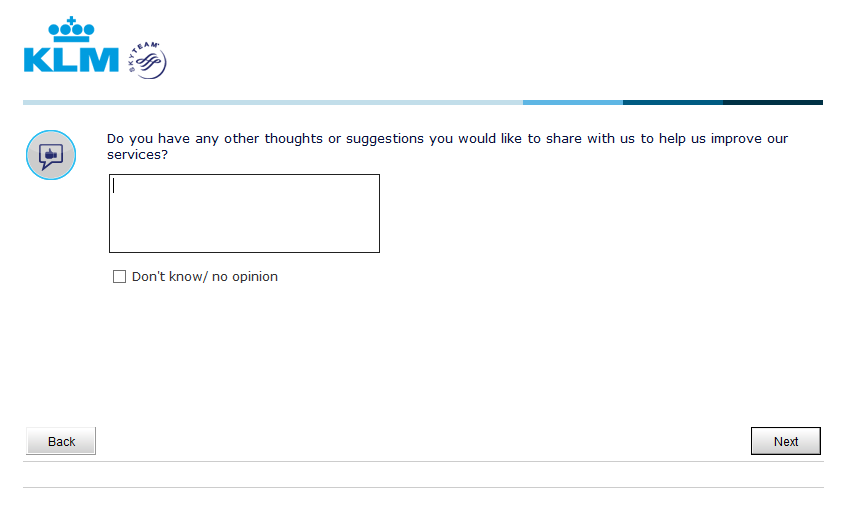 At last! I finally got to tell them about the stuff that I am interested in. Pity that when I did, and hit "Next", I got presented with: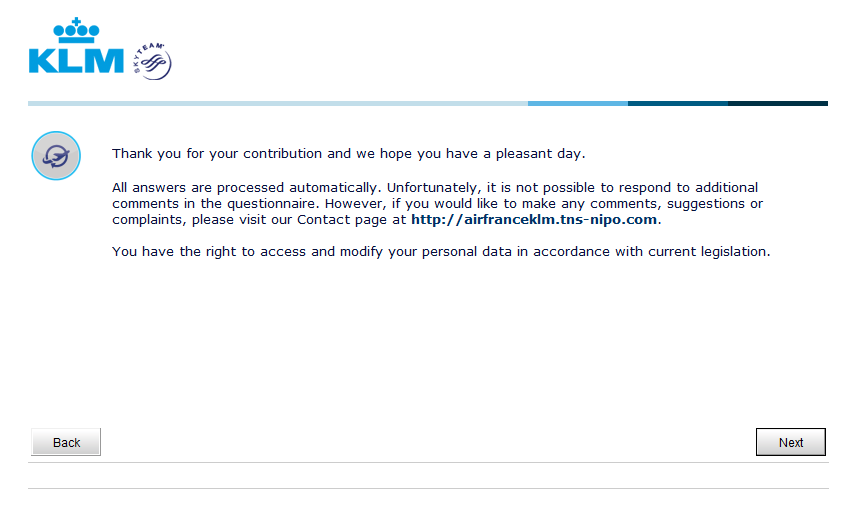 After 75 questions, and a slap in the face to finish, I certainly had plenty of fatigue.
So how is it that Papa Johns can collect over 29,000 survey responses in under 10 weeks, achieving a response rate of over 15%, and in that data have a massive total of exactly 4 people who said "please don't send me this survey again"?
0.0001% survey fatigue.
Perhaps it has something to do with the survey itself, which is a grand total of...2 questions long.
Survey fatigue IS all about over-surveying customers, but it isn't the number of surveys that causes the problem. It is just how long and horrible the surveys are!
Keep it simple. Make it easy. Send it fast and whatever else you do, take action as a result.
If you want to see this in action, pop over to the Papa Johns website and click on the Rant & Rave Feedback tab (top right).
Whilst you are there – why not order a pizza as well!
Find out more about our Fast Feedback solution here:

Sources
*Advancing Research Methods with New Technologies, Natalie Sappleton, 2013
http://books.google.co.uk/books?id=I_5kMPw3O-IC&pg=PA7&lpg=PA7&dq=%22survey+fatigue%22+2001&source=bl&ots=zk_YaZSfOh&sig=FZnivCYLPaCARMuL_8ilwJVeLyo&hl=en&sa=X&ei=wgmjU4-vJYzY7Ab184H4Bg&ved=0CCUQ6AEwAA#v=onepage&q&f=false