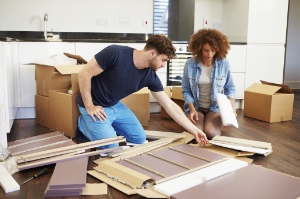 Emotion is a powerful thing.
But when it comes to customers and their money, I used to see emotion as something short-lived, and would look towards more concrete measures of customer behaviour to try and predict how customers made purchasing decisions. Which is rather at odds with Saatchi and Saatchi, who tell us that 85% of all purchasing decisions are emotional.
As usual, to find the truth, I looked to my wife.
15 years ago, my wife took her first trip to IKEA. Something which didn't particularly stir my emotions, but clearly had a big impression on her as she has since referred at least 10 new customers and shopped in several UK stores as far as Bristol, London and Cardiff.
She has also been to IKEA in both Amsterdam and Majorca – which is quite remarkable as we live in Birmingham and no matter how cleverly you flat-pack furniture, you just can't get a Boksel coffee table into an airline's overhead locker.
Yet in all that time, and all those visits, her involvement in the IKEA Customer "loyalty" scheme (the Family Card) has amounted to the grand total of... 60p.
Not only have they rewarded her with a measly four pence for each year of her loyalty, they have not once asked her about her shopping experiences—so they have no idea WHY she keeps coming back!
It isn't the prices, the products, the new catalogue, the store layout or even the special offer on Christmas chocolate reindeer poo in the food shop.
It is down to something which happened on her first visit, and how it made her feel—an emotional experience which is still driving her buying behaviour 15 years later.
But what if IKEA changed that one thing that drives her customer loyalty?
They do not understand why she is loyal, so every time she shops they risk losing a customer who has committed 15 years to Swedish shopping, without even knowing it.
We help our clients understand customer behaviour, but we always look for the 'WHY'— asking for a comment in the customers own words that explains the reasons behind their purchasing decision.
If 85% of all decisions are emotional, brands are missing out on a huge amount of insight by not asking what it is that drives their behaviour.
One simple question that lets you listen to the Voice of the Customer, and gives you the answers you need to make changes that will truly make a difference to their experience.
Now that's worth more to the customer than 60 pence.
Want to find out just how important the role of emotion is to Customer Engagement? Take a look at our roundtable discussion with customer service professionals on this very subject: