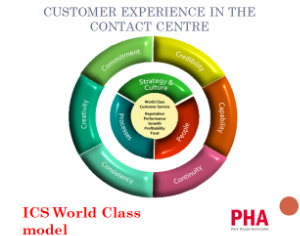 A lot of people are already familiar with the
world class customer service model
, and it's well worth a look as the points covered are still so relevant in today's Contact Centres.

Research has found that the three key areas that contribute to offering world class customer service, as demonstrated in the diagram, are:
- Strategy & Culture
- People
- Processes
Moving into a little bit more detail on each of these key areas, you can see that two of the main focuses under Strategy and Culture are your 'commitment' and 'credibility'.
Your commitments are the promises that you make to your customers. These could either be publically stated on your website, or implicit in terms of the way in which you engage with your customers.
Your credibility is determined by your ability to perform against these promises. That's not to say that all is lost if you happen to fall short on these commitments, but if you do, your credibility is determined by how you react when something goes wrong and how you go about repairing and recovering your Customer Service.
In terms of the people of your organisation, the diagram illustrates that the two key areas here are your 'capability' and 'continuity'.
Your capability is your capability to hire the correct people to work in your Contact Centre and your recruitment policies around Customer Service skills. If you hire the right people to manage the relationships with your customers, then you're more likely to be able to offer an exceptional level of Customer Service, than if you just hired the first person who came through the door.
Your continuiity is around how you engage your employees once you've hired them. If you've gone to the trouble of making sure you've hired the right level of staff to work in your Contact Centre, you need to make sure you hold on to them and empower them to provide the best possible Customer Service.
Finally, in terms of your business processes, the two major factors here, according to the World Class Customer Service model, are your 'consistency' and 'creativity'.
Your consistency is mostly around whether or not your processes are reflective and consitent with the needs of your customers. A good question to ask yourself is, 'Do we do our processes for our customers, or to our customers?' If it's the latter, then it's time to have a rethink of your Customer Service strategy.
Lastly, your creativity is all around how you come up with service improvement ideas. Do you engage your customers and employees in creative ways to help improve Customer Satisfaction or the Customer Experience?
If you've got any other areas you believe to be important to providing world class customer service, please let me know in the comments section below.
Take a look at our on-demand Webinar to find out how to improve your Contact Centre Customer Experience: