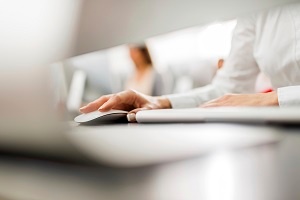 Have you ever looked at a computer mouse and thought about all the different people that help to make it?
There isn't a single person who has the skills and knowledge to create a mouse from scratch. There's the person doing the injection moulding, but they can't do the electronics. Then there's the person optimising the track pad, but they can't organise and manage the logistics to get the completed mouse to market. In fact, if you'd ever try to make a mouse from scratch, it would take you months and months. You'd have to train in brand new skills and invest in some serious equipment. And there's no guarantee that the final product would look any good. Or even be useable.
Think this is far-fetched? Here's another example. How about trying to make a chicken sandwich from scratch. That's not so bad, right? You probably already have the ingredients in your kitchen; you just need to assemble them? But if you were genuinely making it all from scratch, you'd have to rear the chickens, grow the wheat, kneed the bread – it's going to take you a long time and cost a lot more than your average sarnie [if you're still tempted, read this story about one man's efforts to create a chicken sandwich from scratch. It only cost him $1500 and six months.]
We don't want to be making computer mice from scratch – it's not worth the time or the effort. Actually, what we want to do is build on what others have done and do something even better.

The examples of the computer mouse and the chicken sandwich illustrate just how far we've come. We've moved from self-sufficiency towards interdependence. We've moved from a time where we had to do everything for ourselves to a time where every one of us is part of a big global network of people who are all making stuff. We're all making new tools that help others make more tools that help others make even more tools and so on.
As we do this, the first building blocks of innovation make it much easier for others to develop ideas and create something even better. For example, where websites once had to be all hand coded from scratch, it's now possible for someone to create a new website in a matter of minutes.
If we keep building this up, we'll reach a point where we can free our cognitive abilities and ourselves, ensuring that we are able to create the very most value.
A very real shift is happening in the way we think and work. This shift isn't happening through big, slow hierarchies. It's happening through chaotic, but nimble networks. These networks are much better are sharing information throughout and making constant transformation. This shift demands a change in mind-set and the ability to adapt, so that we can genuinely benefit from the changes that have already happened and the ones that are going to happen.