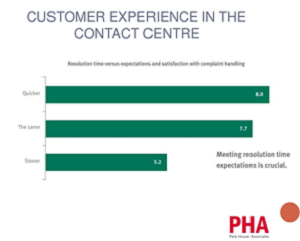 We all know the benefits of providing excellent Customer Service, but what are the key characteristics of high performing service organisations?
1. Meet customers' expectations
This is something I'm sure you'll be familiar with. As you can see from the graph, our research has found that in terms of Customer Satisfaction ratings, meeting Customer Expectations will result in an average score of 7.7 and exceeding them will result in those scores being a touch higher.
The key thing to note here, however, is that it's when you fall short and fail to meet the expectations of your customers, that Customer Satisfaction scores are significantly affected, with an average score of around 5.2.
So what brands need to ensure is that they are putting in enough effort to meet customers' expectations, as their overall satisfaction isn't affected as greatly by having their expectations exceeded, as it is when their expectations aren't met.
This highlights the importance of setting customer expectations very clearly, as this allows you to control what your customers are expecting from you, and by when.
This is particularly important when considering the Contact Centre as, often, customer complaints and issues can't be resolved immediately.
2. Use what you know to make well-informed, real-time decisions
The second characteristic of high performing service organisations is that they use what they know about their customers to provide a relevant and personal service.
An excellent example of this is my local taxi company. When I call them, they pick up my phone number and know exactly who I am, they call me by my name, know where I live and often know where I'm likely to be going. This is obviously a very simple transaction, but it is one that is made extremely easy and pleasant for me.
So why can't all brands be the same? By using transactional data and the information provided to them by their customers, brands can start providing a personalised and effortless Customer Experience.
3. Be proactive
This point is all about keeping customers informed throughout their journey; not just in terms of promotional offers, but at every stage of their journey.
As an example, when there are ongoing issues, brands need to ensure that they keep their customers updated around any progress made. There's nothing more frustrating than expecting a resolution to your problem, and not receiving it.
A really simple, yet effective way of doing this is to keep customers updated via text message. One brand that does this extremely well is Premier Inn, have a look at how they're using Proactive Communication here.
4. Empower your customers to self serve as much as possible
Some brands, especially in the Public and Utilities sectors, are starting to encourage customers to self-serve, using information available on the website and other sources, to resolve some of the more straightforward issues.
This means that customers only need to escalate issues and get in touch with the Contact Centre when their queries can't be answered using the sources of information available to them.
Now, not everybody likes this idea, and sometimes this is down to a generation issue, but this is a really good way of managing the pressure on your Contact Centre as it limits the number of inbound calls, meaning that your Contact Centre agents can focus their time on value adding calls, saving you both time and money.
One theme that occurs in each of these points is Customer Effort. There is an increasing trend for organisations to track and measure how much effort their customers need to put in to do business with them. So, by making the Customer Experience easy for customers, they are more likely to be satisfied with the service received and use your business time and time again.
Take a look at our Webinar to find out how you can improve your Contact Centre Customer Experience: