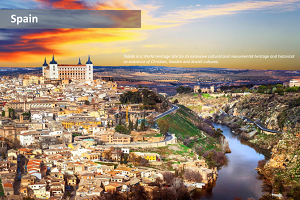 The start of a new year often makes us think about what the year to come will have in store. But instead of looking to the future for answers, we've searched for a few companies who excelled in the use of technology to enhance their customer experience.
Spanish hotel, NH Hotel Group, introduced 3D Holographic Telepresence Technology, used for the first time on a permanent basis in a hotel, and also next generation video conference solutions.
This 'High Tech Made Easy' service concept is designed to enable high-performance and high-impact meetings and events.
This innovation was recognised at the 2015 European Hospitality Awards, where the NH Hotel Group won the Best Use of Technology Award.
"NH Hotel Group's goal is to put technology at the heart of our service, to help achieve our leisure and business aims. This will offer our customers a revolutionary service in the industry." Federico J. Gonzalez Tejera, CEO, NH Hotel Group.
Another example of a company using technology to enhance their customer experience, is South African company, MTN.
They use a smart phone tool to give their frontline agents more knowledge to solve customer issues more quickly.
They have also launched a 'customer facing' version to allow customers to solve their own problems. This has led to their Average Handling Time (AHT) being reduced by 10% and their customer satisfaction score up 21 points.
"Customers are becoming more demanding, and rightly so. With the proliferation of smart devices and increased data usage, we need to not only keep up, but also be one step ahead at all times. Our challenge is to get things right first time and empower our agents." Eddie Moyce, Chief Customer Experience Officer, MTN.
To find out how else the world embraced customer experience in 2015, take a look at our full presentation: