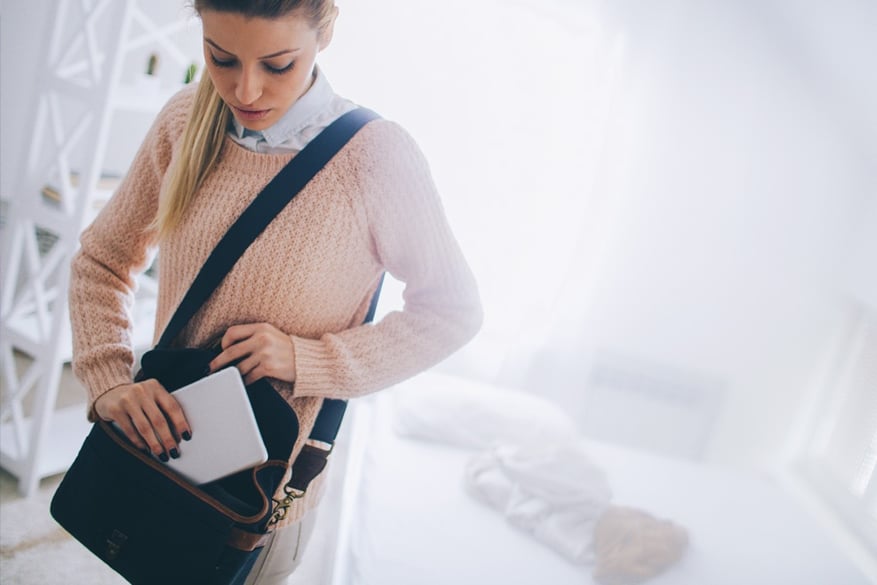 Have you ever tried to survive an event, conference or festival with the wrong bag? If not, it's probably never even crossed your mind and may seem like a trivial problem. But if you have, you know that lugging an armful of swag around all day is not what you want to be doing. However, it's difficult to find a bag that can fit everything in while also striking the right balance between smart (business) and casual (festival).

To make sure that you're both stylish and prepared at your next business festival, we've put together a few suggestions.
The backpack
Pro: The backpack is the number one choice for anyone who has a lot of stuff to take and a long way to go but also wants to look the part. They come in all shapes, sizes and colours with as many pockets and hidden compartments as you could imagine. It may seem an obvious choice, but it's a classic for a reason.

Con: The backpack isn't the most sophisticated choice on the market, making many outfits look more clumsy than chic. Choosing a backpack also means that you run the risk of having crumpled shoulders all day, as well as having to undo several zips every time that you need your wallet or purse.

Our choice: Dakine backpacks not only come in a range of colours, but they're also super comfortable and will easily fit everything you need for the day.
The messenger
Pro: This over-the-shoulder look is coveted by many stylish men and women. A smaller and, arguably, more sophisticated choice than the backpack, it can still hold all of the stuff that you might need for a day out of the office.

Con: They're also available in a range of colour and sizes. However if you've opted for a plainer choice, you can also add accessories such as key rings and badges to the strap for a more casual festival look.

Our choice: Snug bags are as comfortable to wear as they sound and have plenty of compartments to keep all your bits and pieces neat and tidy.
The festival bag
Pro: This bag is specifically designed for the out-all-day party-all-night nature of a traditional festival, it is also handy for keeping your essentials on you without having to take your suit jacket. A tablet, phone and wallet can easily fit inside this mini-messenger and is ideal for those who travel light. They're also easily customisable and less cumbersome than the messenger.

Con: You might struggle to find a colour or style you like outside of the festival season, or one that doesn't have a big brand logo on the front. They're also not great if you need something heavy duty.

Our choice: Sports brands are the go-to for these types of bags. However Converse also have a collection which are more understated and sturdy, the perfect combination for any business event.
The duffle bag
Pro: For those who can't go anywhere without bringing their entire desk with them, the duffel bag is an excellent choice. You'll be sure to fit everything in, even if you're staying over for the night.

Con: They're not particularly secure, aren't great for carrying laptops and are uncomfortable to carry. Consider keeping your essentials in a separate bag or opting for a version with wheels or lots of pockets if you want to keep everything in one place.

Our choice: Lightweight with lots of compartments, 5 Cities has a great bag that is also compatible with most airline hand-luggage restrictions.
Tote bags
Pro: Whether it's a freebie from the festival or one that you've brought just in case, tote bags are great emergency bags for any unexpected extras. Easily folded and kept in another handbag or laptop case, they can be whipped out at any time and easily carried around all day.

Con: It's not the most secure choice, but they are certainly the most stylish. Any colour, pattern or even quote that you can think of has probably been printed onto a tote bag at some point. Plus, you're likely to get the one that you want for less than £10 online.

Our choice: Hippowarehouse produce some awesome designs, they're bright, bold and truly pun-derful!

Speaking of festivals... if there's one customer experience event you don't want to miss this year, it's Customer Engagement Raveolution 2016. Taking place on the 3rd of November at Hawker House, Canada Water, London we'll be bringing together 300 senior executives for a day of insightful presentations, thought leadership and networking. Follow the link below to find out more!